Issue #46
Comment
It has been rather a long interval since the last Newsletter; mainly due to there not being many new contacts . I am glad to say there has been the same decline in the quantity of Spam. Then I received an inquiry which goes some way to confounding what I have said many times that there has been no contact between the two variations of the name. What I had in mind was a Shardlow marrying a Shardelow, this case involved a person not actually a Shardloe but descended from that family marrying a Shardelow. This event is continued below under "New Contact"
It is very satisfying when two or three pieces of hitherto unrelated information all come together and make one story as happened recently. This case started some years ago when the 1851 Census was made available on the LDS Family History Resource File, at the time I was collecting all references to Shard*low* and printed one for Catherine Shardlow, a widow living at Aston . Warwickshire with four children. This did not fit with any families on my database at that time and simply remained on file. The next item in the chain of events was when I received a splendidly detailed account of several generations of Shardlows in America asking if I could find their origin in England. (Ed. "A confession" SHARDS #40). This I was not able to do for certain but the family in America placed some importance on the name Ludford as a second given name, The IGI for Warwickshire gave the marriage of a William Shardlow to Ann Ludford and later the birth of a son William but no Joseph who started the American branch. It was here that luck started to take a hand, it happened that the next entry to Catherine and family on the 1851 Census was for a Daniel Clive , occupation Gun Barrel Borer which brought to mind a mention in Shards #39 of Clive and Shardlow as Gun barrel forgers. A microfilm of the Polesworth (Warwickshire) Parish Registers found the missing Joseph who was born in 1779 the son of William Shardlow and Ann Ludford .
Another Variation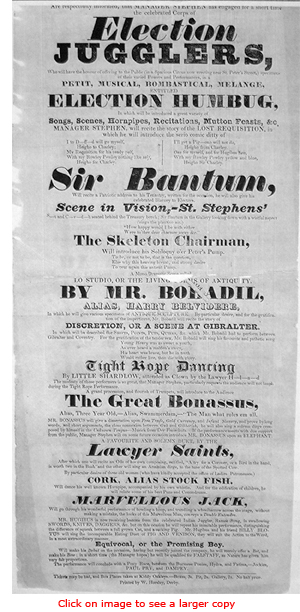 Several years ago Heather Eaton sent me some names in the Repton, Derbyshire Parish Register, these were all variations of Shardlow and ranged from Shardly in 1592 to Shardloue in the same year. At the time I treated these as being due to lack of any formal spelling and, as there names did not appear in nearby Parishes while Shardlow was quiet common, I listed it as such . Now I find that an Isac Shardley was serving on a jury at Repton in 1690, 100 years later so at least one family had continued to use that spelling. Heather also sent me a copy of a rather puzzling poster which I take to be a satirical electioneering poster in which names are thinly disguised. Unfortunately this is not dated but the printer is known to be in business between 1840 & 1860. The reference to "Little Shardlow" would seem to be rather more direct so I wonder if this was not the persons real name but refers to someone who represents the place of that name in local government. Not being familiar with local politics at that time I would be grateful for any help with the reference to Little Shardlow.
New Contact
Gavin Cowley writing from South Africa had come upon SHARDS #45 via the Google Search Engine and sent me details of both a Shardlow and a Shardelow marrying into the same family albeit in different generations. Gavin was asking for background information on both branches. The Shardlow connection is with the big family in Aston on Trent and later in Shardlow while the Shardelow element is the family featured in SHARDS #24 and #25 which goes back to that in Norton Subcourse, Norfolk.
An interesting spin off from this is that the Shardelow part was Donald Francis son of Thomas Samuel S---- on whose Marriage Certificate is recorded as Shardalow as was his fathers name. This was from a hand written copy of the certificate so to avoid the possibility of a mistake having been made the spelling was checked with the 1871 Census which confirmed this to be Shardalow.

---
| | |
| --- | --- |
| Owner of original | Originally created by Gerry Langford (d. 2017) |
| File name | shard/myfolio_01/46_issue.html |
| File Size | 5.17 KB |
| Media ID | 1201 |
| Dimensions | n/a |
| Folio version | v13.0.0.22 (28 Mar 2021) |
| Linked to | Albert George SHARDALOW |