Issue #17
"Songs of Praise"
On 17th of September this religious programe commemorated the lives lost in the Battle of Britain 1940 . It concentrated on Frederick (Rusty) Rushmer whose story I told in "Shards 15" and was a touching tribute to him and all who took part in this episode of World War II. Rusty's sister Margaret, aged 94 took part in the programe. For the benefit of those who have not seen "Shards15" their mother's maiden name was Annie Shardalow, youngest sister of the Emma in the next item
Emma's Letter
In the last issue I mentioned a letter John George had sent me which was written by his grandmother Emma George nee' Shardalow from her Boarding School.
Sutherland House
December 1885
My dear Father
I have been asked by Mr. and Mrs. Tomkins to write and tell you that our Christmas Holidays will begin on Friday the 18th inst and will continue until Tuesday January 26th 1886. It is hoped that in the afternoon of that day all the Day Pupils will call for their books and that before night the boarders will have arrived.
Several of us have been working through this year with a view to the Examinations held at the end of the present Term One of these, that conducted by the College of Preceptors is just over. It began on the 1st instant and lasted four days. We had not to leave the house for this as it was held in our own Drawing-room, Revd I Horn being the Sub-Examiner. We hope to hear the results of this examination which lasts from Monday the 14th until the following Friday. They will be obliged to go to Norwich for this, as Yarmouth is not a Centre.
We had a great [deal] of wet weather this term and have consequently been kept indoors more than usual. Sometimes when it is wet we were not able to walk out and we had to exercise in the Play-room on the Trapeze.
If this frost continues perhaps we shall get some skating in the holidays. I should not be surprised if my skates are too small for me, should it be so I hope I may get a new pair as a Christmas present.
With Kind love and hoping I shall spend happy holidays with you
I am, my dear Father
Your loving child
Emma Shardalow.
The above is written in a clear round hand which could almost be described as Copper plate writing, I have only made one alteration, to insert the word deal.
A coincidence?
Another new member, Avril Marshall, sent me details of her Shardlow background which is in Nottingham starting with Joseph SHARDLOW and Hannah Webster. On referring to my database I found the marriage of Joseph ShardElow and Hannah Webster in Norfolk in 1799. This was rather a long time before the christening of their first child in Nottingham but not impossibly so and the different spelling was attributed to the local dialect and Shardlow being a common name in Derby and Nottingham. This was compounded by the fact that Joseph and Hannah did not appear again in Norfolk and a move to the Midlands seemed the obvious explanation. However when the Nottingham couple went on to christen eight more sons it began to look rather suspicious as Hannah would have been at least 56 when the last child was born.
Further investigation showed that Joseph Shardlow and Hannah Webster had married on the 16 Feb. 1818 at St. Mary's, Nottingham. Obviously they are two different couples but what are the odds aginst this combination of names? My first thought was that a mistake had been made in compiling the IGI on which my records were based but reference to a different source ( the Vital Records Index) confirms the Norfolk entry with the additional information that it was Joseph's second marriage.
John Shardelow, Vicar of Ilketshall St. Andrews
This saga has hit another brick wall! The Lincoln Archives Office now hold the manuscript referring to the Suffolk Clergy and they very kindly checked this for me. Unfortunately it does not contain any reference to John or any other Shardelows.
Another new Shardlow contact
From Canada this time and again via John's web page. Derek Shardlow is trying to trace the background of his G grandfather William Ambrose Shardlow. I have been able to give him the two previous generations but there is something of a mystery about William's parents after his christening at South Normanton 18 Jan.1878. William had very eventful life serving in the South African Police, the British Army in the Boer War, The Canadian North West Mounted Police, and finally with the Canadian Forces in France during the First World War which he survived. I am hoping Derek can be persuaded to write this up in more detail for a future issue.
Variations
I have mentioned before the Incumbent of Thurlton, Norfolk in the mid 1700s who always wrote SHEDLOW in the parish register when the person concerned was clearly known as SHARDELOW, now another variation has been added. A lady in Florida wrote to the Norfolk Mail List asking for information on a Sarah Shaddelow, I am not sure where she got that spelling because when Sarah married William Woodthorpe at Thurlton it was entered as Shardlow. When she was christened it was Shedlow although her parents were called Shardelow so the poor girl was probably glad to change her name!
Data on CDs
" Phillimore's Marriages " consists of printed volumes of transcribed marriage data for many (but not all) parishes in most counties in England. They date from the earliest registers which have survived up to 1812. These are now being published on CDs. The 10 discs for Norfolk cover only 141 of about 780 parishes but never the less are a useful source of information not easily found elsewhere. I have got the first three of the Norfolk series and hope, eventually, to get them all and extract all the Shard*low* marriages. The other two counties likely to have early Shard*low* information are Suffolk, 4discs and Derbyshire, 14 discs but at £20 each this has to be a long term project.
14 Century Enquiry
What must be the earliest event I have been asked about concerned Joan Shardelow who, about 1350, married John de Brews of Wenham Pava, Suffolk. The enquirer had a great deal of interesting information on John but nothing about Joan's background. She is the Joanna on the sixth line of the chart which was part of "Shards No. 6" (Recent members please refer to those published on the web (www.shardalow.com)
Gordon Keys, author
The late Gordon Keys, who did so much to start the Shard*low* study, did not tell me he had written a book. It is titled "My Ancestors" and, with typical Gordon humour, sub-titled "They made me what I am today, I hope they are satisfied". This has been microfilmed by the LDS archives and can be viewed by arrangement with local LDS Libraries, the Location reference is FHL.US/CAN film 1697571 Item 6.
Family History Library Catalog
The previous item was picked up while browsing through this LDS publication on CD, it can be searched in several different ways but SHARDALOW and SHARDLOW failed to find anything. Shardelow is one of Gordon's families mentioned in his book.
Parliamentary Records
I have moaned several times in these pages about the break in parish records during the period of Parliamentary rule but I have not before seen any reference to a formal arrangement to maintain them. In the records for Holkham, Norfolk., between April & December 1653 there is the following entry,
"Having received a certificate from the Inhabitants of the Sayd Towne concerning there electing of Thomas Howlett Vicar there to Keepe ye Register of the sayd p. do approve of their choyse and have given him his oath according to the act made for ye purpose.
Martin Hastings
Later in the register Martin Hastings is mentioned as marrying a couple in his capacity as a Justice of the Peace. What a strange situation, Thomas Howlett, an ordained priest, not able to perform the ceremony but thought fit to record it!
BBC & Internet Genealogy
The British Broadcasting Company are planning a programe on this subject and were inviting people to take part, I contacted them and had a telephone call from a researcher who obviously knew little about family history. She asked a lot of questions and said she would pass my name to the Producer since when I have heard nothing. It seems several other people have had the same experience and I think they were looking for something really sensational like finding a great great grandfather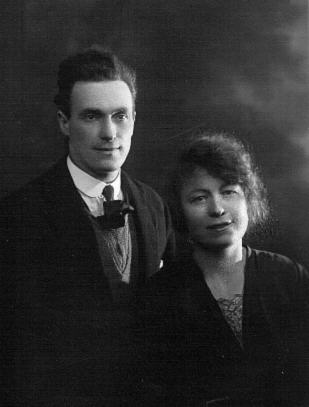 Family Photo's
The picture here is of Tony Shardlow's parents Edwin and Emily nee` Hammond and is thought to have been taken about 1919.
Tony and Avril Marshall are both descended from the Joseph Shardlow and Hannah Webster referred to on page 1, with their mutual consent I have passed on their addresses so they can compare notes.

---
| | |
| --- | --- |
| Owner of original | Originally created by Gerry Langford (d. 2017) |
| File name | shard/myfolio_01/17_issue.html |
| File Size | 10.74 KB |
| Media ID | 1201 |
| Dimensions | n/a |
| Folio version | v13.0.0.22 (28 Mar 2021) |
| Linked to | Albert George SHARDALOW |