Issue #47
Comment
John Shardalow in Canada who does so much to make this Newsletter available to us on this website visited me recently, his cousin Cliff together with some of his family joined us. I am a distant cousin (6th cousin twice removed) to them so you could call it a mini-family reunion, I made a chart to show just where the connection was and this involved going back to the 12th Century and included 221 people. I am not publishing this because it includes two places where the connection is only circumstantial and lacks solid documentary proof. You will not be able to read the names on the illustration but it will serve to show how distant we are from what I believe to be very close to the origin of it as a surname. Each horizontal line on the chart represents one generation. (NOTE FROM JOHN -- See my addition to Gerry's newsletter below)
Strange Chance
Malcom Godber who although he is not researching a Shardlow variation was kind enough to send me details of what must be a very unusual occurrence. His son recently bought a house and on receiving the deeds found it had originally been built by an ancestor. What makes it interesting to us is that that ancestor was a John Shardlow who, in the 1881 census was listed as a 57 years old coal miner. It also links up with the family of Keith Hames a member of our group with whom I have unfortunately lost touch.
Antiques Roadshow
I do not know if this TV program gets broadcast in other countries but is very popular in the U.K. It visits various venues for people to bring in items for experts to describe and value. Recently one of these was a scale model of the well known Blackpool Tower, I only caught a glimpse of a descriptive plaque attached to it but I think it was made by John T. Shardlow who, in the 1881 Census was "Foreman of Model Makers & Licenced Teacher (of mechanics)". Earlier Records show him passing exams in Engineering subjects, he was the son of Ambrose and Elizabeth Shardlow of the village of the same name.
May I wish everyone a Merry Christmas and success with your research in 2010
NOTE from John Shardalow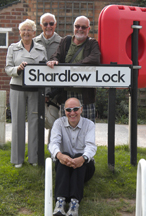 It was indeed great to finally meet Gerry! Gerry started writing the Shard's newsletter in 1996 and it was about a year or so after that I decided to publish it for him on this website. This was the first time in all those years that I had actually met him.
While I was on vacation from Canada to the U.K., some of my family agreed to meet up in the village of Shardlow. But prior to that we spent a couple of hours with Gerry and his daughter who live very close to Shardlow. It was great to meet this lively and active mid-Octogenerian!
The chart Gerry refers to above was about eight feet in length! I took quite a few pictures and have combined them into two large pictures where you can indeed now read the names. On the images, I have reflected the two areas Gerry refers to where the actual links haven't been verified. (See also the Family Tree link located in this section of the website.)
All of the images I took of the chart can be found here. You'll also see the two composites. To view the files:
Using the above link, click on each composite titled 'First part' and 'Second part'
When the image shows up, just under the title, you'll see the option 'All sizes' -- click on this
By default, the 'Large' size will show up -- click on 'Original'
You can read and browse through the 'Original' size using your browser sidebar and bottom bar, or
Once you've gone to the original size, you get the option to download the actual file. You can then browse using your regular picture viewer
If you have any questions or difficulties, please contact me and I can arrange to send the two files to you via email. - John

---
| | |
| --- | --- |
| Owner of original | Originally created by Gerry Langford (d. 2017) |
| File name | shard/myfolio_01/47_issue.html |
| File Size | 5.32 KB |
| Media ID | 1201 |
| Dimensions | n/a |
| Folio version | v13.0.0.22 (28 Mar 2021) |
| Linked to | Albert George SHARDALOW |