Issue #16
This Quarter has been a very eventful one so this newsletter will be quite a long one.
New Contacts
Marj. Cowie received a letter from a Shardelow researcher, David Langdon, I have since had a very useful exchange of information with him and although I have not yet found where his Shardelow family fits into the overall picture I hope to do so very soon.
When I do, with his permission, I will pass it on but all I know at the moment is that his great grandmother is the Charlotte Elizabeth ShardAlow christened 2 Apl. 1830 on the IGI. A most interesting thing is that the Col. Sir Arthur Evans referred to in "Out of the Long Ago"1 and whose pedigree chart I eventually managed to obtain is David's first cousin once removed. David knew of this chart but thought it had been lost so I have sent him a copy .
At the time of writing David is in hospital for a routine operation, I am sure we all wish him a speedy recovery.
1A book sent to some of the original members of the group, it does not really help our research and the chart only confirms other information we already had.
Those of you who receive the GRD may have seen an entry from Shirley Hughes who is researching SHARDLOW. I wrote to Mrs Hughes and she tells me she is doing this for a friend, unfortunately Shirley's husband has died recently so she is not pursuing this at present. I have looked at the details she gave me and I think it might connect with the family given me by Dr. TimWassell.
I contacted another entry in the GRD which asked for information on the name SHADELOW this has resulted in correspondence which seems to have come to a halt at the moment. I feel sure this is yet another variation of Shard*low* because it cropped up in the 1841 Census of the village of Dickelburgh, Norfolk and I have a record of that variation changing to Shardalow in the near by Town of Diss. Both these places are near other known instances of Shardelow so I am hoping to revive this correspondence.
Bill Shardlow a researcher in Maine, USA had seen John,s web site and contacted us both, his ancestor Joseph Shardlow was born in 1779 at Freasely, Warwicks. I have since been able to establish that Joseph's parents were William & Ann nee' Ludford who were married at Polesworth, Warwicks. in 1773. Joseph emigrated to the USA and founded a family there of which Bill has sent me details. Ann Shardlow, thought to be Joseph's sister, was still living at Freasley in 1851.
Advertising
The fact that we keep making new contacts convinces me that there are still people we do not know about who have an interest in one form or other of the name.. To try to reach them I have put an advert in "Family Tree Magazine" for 6 months starting in July. We already have an entry in the GRD.
1881 Census Survey
In the early issues of "Shards" I wrote about a project to calculate the density of individual surnames, I have at last received the results of this and, as might be expected, the figures expressed as a percentage of the total population are very small.
Shardalow & Shardelow together represent 0.0001%, Shardlow 0.0013% ,
John Shardelow, Vicar of Ilketshall St. Andrews
I have been trying to follow up on this gentleman reported in the last newsletter and borrowed a book "Suffolk and the Great Rebellion 1640-1660" in the hope that he, or some of his family, would be mentioned.
Unfortunately this was not the case, but there was the following footnote:-
"There is much evidence of royalism among Suffolk clergy in the Minute Book of Manchester's* Committee for Scandalous Ministers for Suffolk".
Apparently this manuscript is held by Lincoln Public Library, it has not been published but a transcription was made some years ago which I am hoping to borrow.
* Lord Manchester, a supporter of Parliament in the Civil War.
Family Photographs
I am particularly pleased to be able to publish two photographs sent to me by John George. I am attaching it as a separate JPEG file to avoid the difficulties we have had with pictures embodied in the newsletter. One photo. shows Edward Shardalow b 1824 and four of his five daughters the missing daughter is Annie who married Henry Rushmer, their brother Edward (known as John) had probably gone to Canada when this was taken. Emma was the grandmother of John George who sent me the photograph.
The other picture is of Emma's children including John's father and the Wilfrid George referred to in "Out of the Long Ago".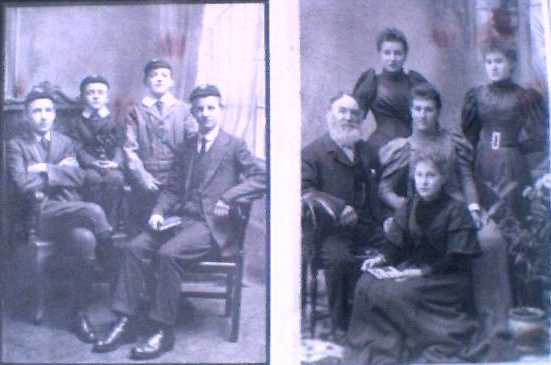 John has also sent me a copy of a charming letter written by Emma to her parents while she was at boarding school, I will include it in the next newsletter.
An admission
While filing some papers I came across an E-mail which had been misfiled. It was from the late Gordon Keys whose name will be well known to some members. Gordon had been looking at the index of Ontario Cemeteries and had found two SHARDLOW entries, these were for Harry and his wife Matilda nee Neale in Burkholder United Cemetery, Wentworth County, Hamilton Township. Unfortunately Gordon did not give me dates but he did say that the full inscription on the headstone could be obtained (for a fee) from the Ontario Genealogical Society. Gordon also reported some SHARLOW ( Occasionally a variant of Shardlow or Shardalow) entries in the census for the town of Carradoc, County of Middlesex, Ontario, Canada. he pointed out that these were Indians of the Chippewa Tribe. Gordons comment was "Indians would have their own names (Running Bear) but took last names to make us (Whites) happy. Lord knows where Sharlow came from".
Data online. The Society of Genealogists have teamed up with a firm called "Origins.net" to make some of its data available on the Internet later this year. This will be a pay-per-view service but members of the Society will have limited free access each month.
"Origins.net" provide a similar service for the General Register Office for Scotland which is reported to work well. The first information to go on line will mainly be indexes of Marriage licences, Wills Index and Apprenticeship Records, NOT Parish Registers although no doubt these will follow eventually. "Origins.net can be contacted at https://www.origins.net
Family Photographs continued
Once again I must apologise for the poor quality of these, for some reason my scanner refuses to save pictures in JPG form. It scans and prints OK so I think it must be the software at fault but I intend to replace the scanner when I have saved a few pennies. The pictures John George sent me were not originals but quite good printed copies, I have recopied them with a digital camera. If anyone wants copies for their records I would be pleased to supply them on photo quality paper.

---
| | |
| --- | --- |
| Owner of original | Originally created by Gerry Langford (d. 2017) |
| File name | shard/myfolio_01/16_issue.html |
| File Size | 8.31 KB |
| Media ID | 1201 |
| Dimensions | n/a |
| Folio version | v13.0.0.22 (28 Mar 2021) |
| Linked to | Albert George SHARDALOW |